Pumps
Pumps are an essential water management solution, and our extensive knowledge will take the confusion out of your decision making. We are confident in our available range of pumps, and offer on and off-site advice so you can be sure you're choosing the right fit.
The Right Fit
Pressure pumps
Household pumps
Self-priming pumps
Centrifugal pumps
Multistage pumps
Sump pumps
Submersible pumps
Solar pumps
Firefighter pumps
Pool pumps
Transfer pumps
Helical surface pumps
Turbine pumps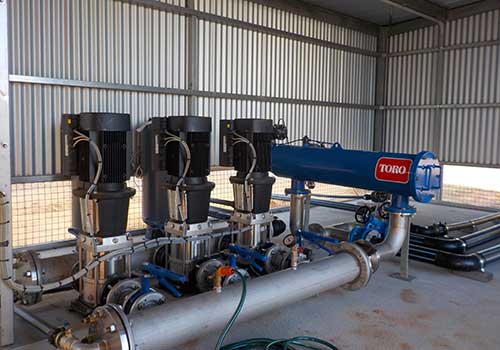 Solar Pumps
Power sources are a huge factor in choosing the right pump, and solar offers a cost-effective option. Here at Aquawest we only recommend solutions that you can trust, and solar pumps are an option we are confident to endorse. Reducing energy costs while offering peak performance is why solar pumps may be the best solution for you.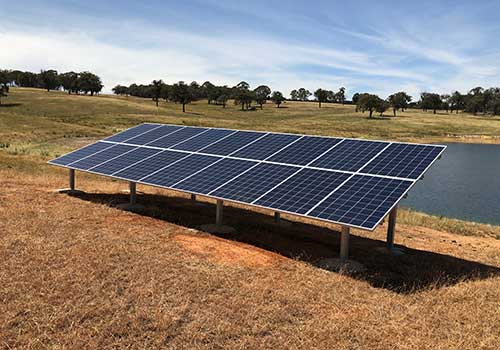 "We were very happy with the job the solar pump installers did. Their work was very neat and tidy and the huts were spotless when they left. We have no complaints whatsoever and would have them back any day."
Andrew F
We offer advice in all areas, including which brand of product to choose. Depending on the purpose of your pump will help identify which brand is best suited:
Grundfos
A premier dealer and servicer of Grundfos Pumps, we routinely recommend these products for agricultural and industrial markets.
Grundfos develop water solutions for the world. They set the standard in terms of innovation, efficiency, reliability and sustainability and their extensive range includes solar, heating, cooling, sewerage, drainage, submersible and dosing pumps.
Solar
Grundfos solar pumping solutions offer many benefits over traditional grid-based pumping systems, featuring easy installation, low maintenance and low operating costs.
Easy installation
Grundfos offers a range of solar pumping solutions that can be tailored to suit almost any application and local conditions. Grundfos' plug-and-go solutions ensure simple installation and easy use even under the most challenging conditions.
Virtually no maintenance
Grundfos solar solutions have built-in protective features to help protect the pump, lowering pump down-time and maintenance costs.
Long term, cost-efficient pumping
Grundfos offers full-line, customisable renewable solutions that are sized, configured and packaged to suit individual requirements. Because of this, the total lifecycle cost of a Grundfos solar pumping solution is considerably lower than other water supply systems. Based on solar power, Grundfos Renewable Solutions combine state-of-the-art pump technology with sustainable, energy efficient solutions to provide a reliable water supply to remote locations with no access to electricity.
Although the initial cost of a Grundfos solar pumping system may be more expensive than a typical generator system, the savings in the long term add up. These savings include:
Reduced energy bills
Reduced operating costs (e.g. cost of transporting fuel
Reduced installation cost
Reduced servicing costs